Aiir's suite of tools can help grow audience and increase revenue for your radio station - and help you serve your local community.
It has everything you need to manage your website - making it as easy as possible for teams of any size to keep it up to date with the latest content.
Ready for radio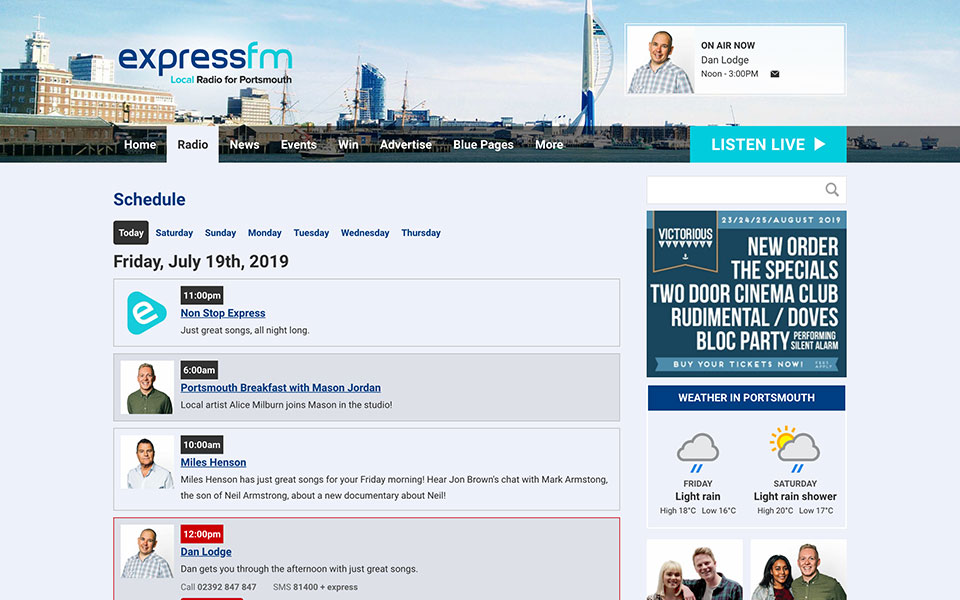 A dedicated schedule tool lets you manage your on air shows. It's as easy as updating a calendar.
Make listening to your station easy with our Player, just add your stream URL. Or if you're a member of UK Radioplayer, we'll help manage your players and EPG data in one place.
Include now playing data on your website, with album artwork and affiliate links automatically included. It's quick to set up with built-in support for popular playout systems including Myriad and PlayoutOne.
---
Simple content creation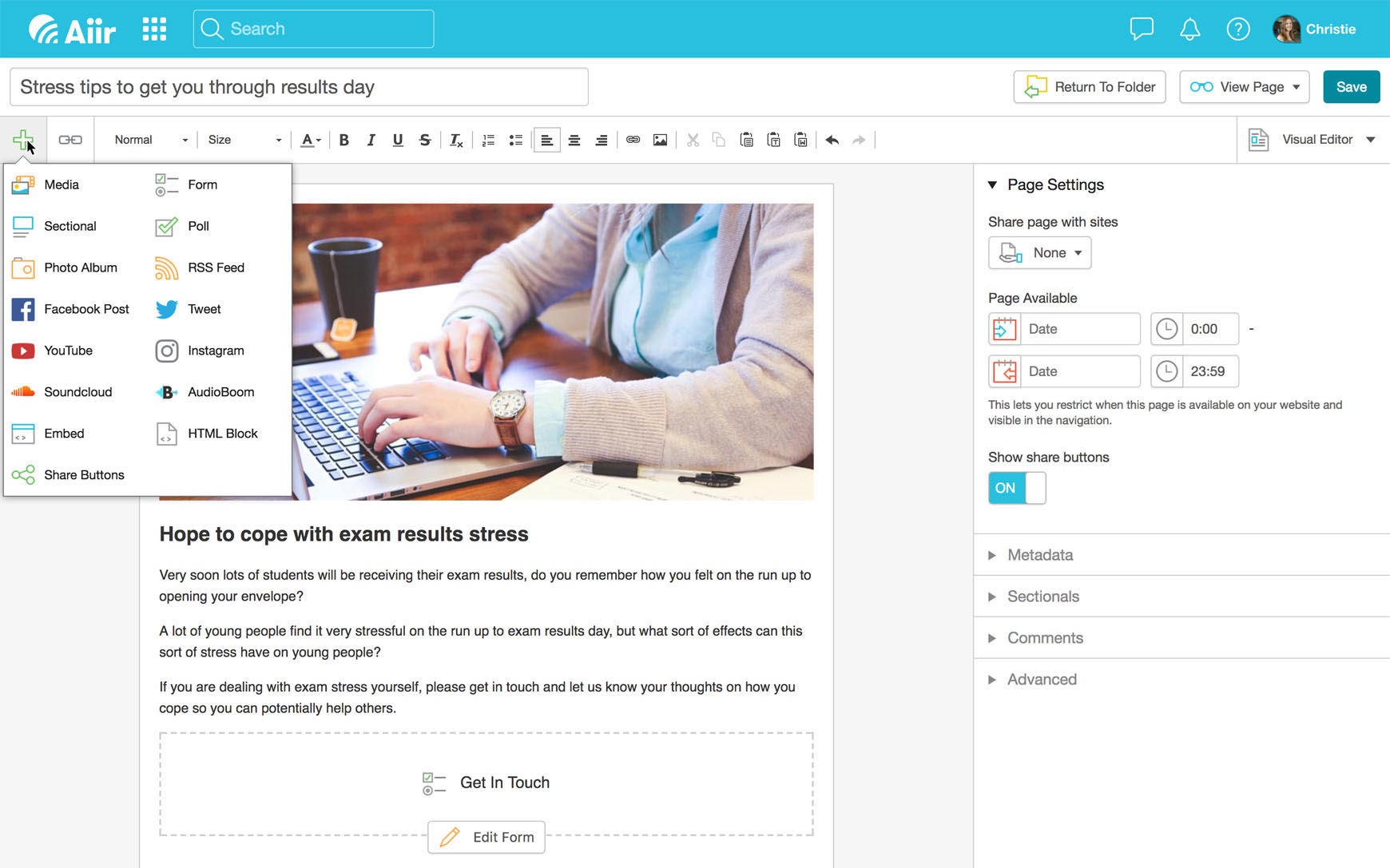 Our article editor allows you to make great looking content in seconds. Easily embed images, audio and content from third-party sites such as YouTube.
The form builder contains a range of options to build anything from contact pages to running entire competitions, with automatic winner selection..
Easy-to-use ad tools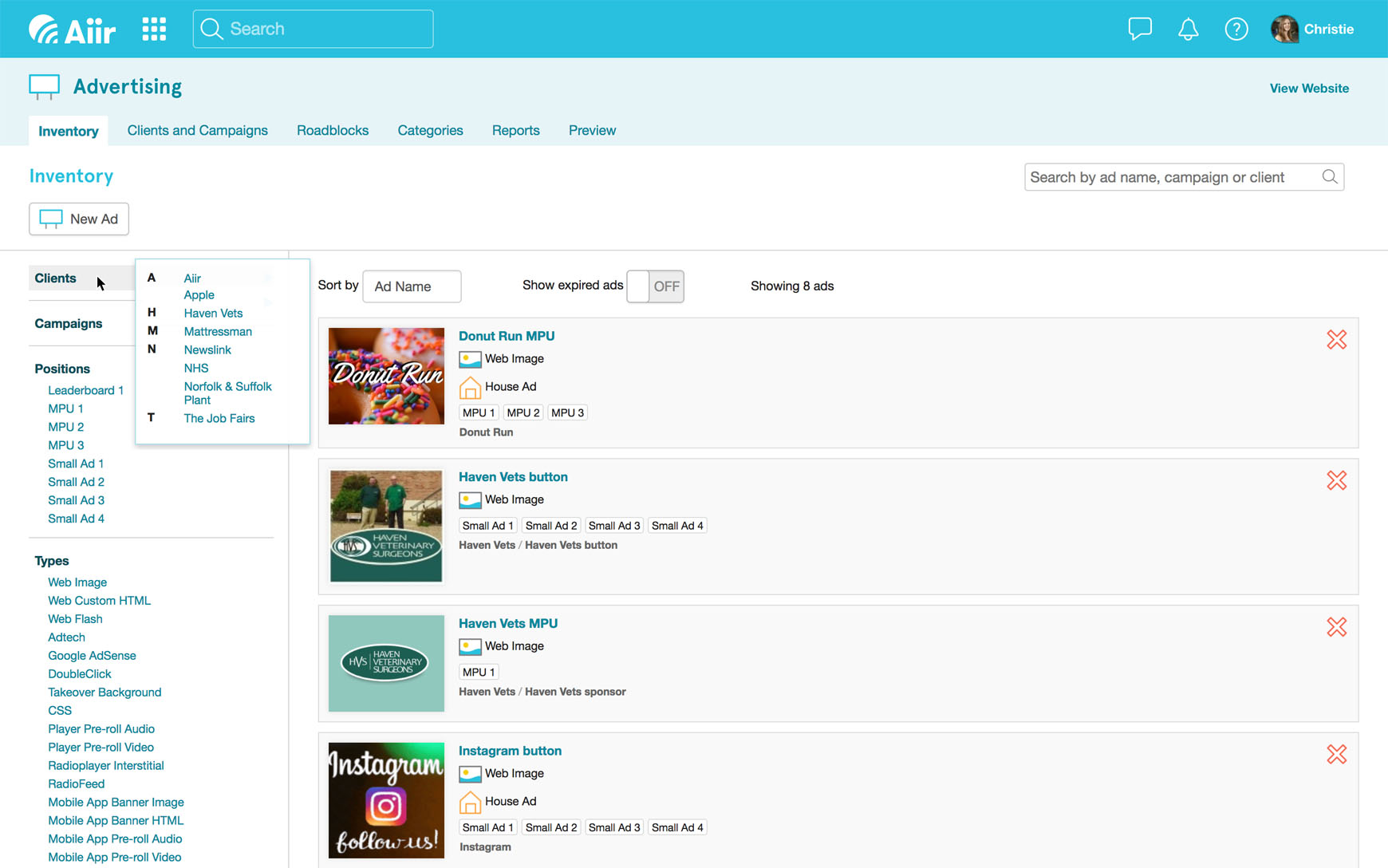 Start to build a new revenue stream with our advertising tool. Use it to manage your online inventory, with ad units on your site template and pre-roll on the player.
Using a third-party ad network such as AdTech or Google? We support that too.
Available on Plus
Serving your community
No need to go hunting for the plugins. Aiir has dedicated tools to help produce a range of online content.
Write news stories with scheduled posting and automatic archiving.
Show the latest weather forecasts, automatically updated.
Update an events calendar and let your listeners submit events for approval.
Curate photo galleries and include them anywhere on your site.
Manage your podcasts and get them ready for iTunes.
Create multiple blogs for your team to update.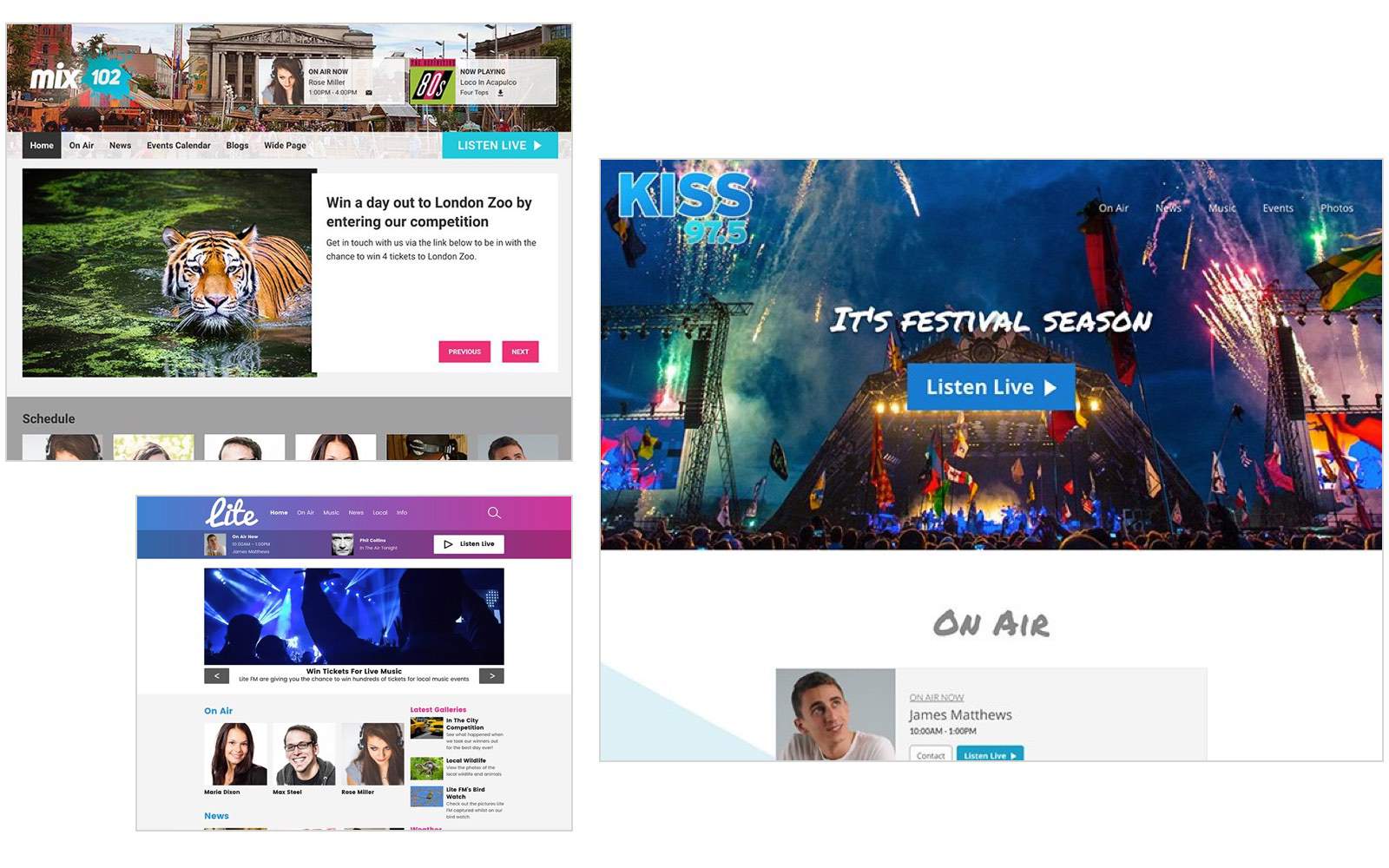 Make it your own
We know every station is different, and your site should be too.
Choose from a large range of pre-built designs, ready to be customised with your colours, images and content.
It's easy to update your theme whenever you like - or even switch to a different one entirely.
Take a look at our ready-to-use templates
Why use Aiir?
Our system takes the hassle out of running your website.
We'll take care of the technical side, so no matter big your team is, you can focus on serving your community.
No more dealing with plugins and updates: with Aiir, you're always on the latest version.

You're in control of your site layout and content, so it's easy to maintain.

Robust web hosting is included with all sites. There's no extra bandwidth fees to worry about - our service scales on demand so you can rely on it when you need it the most.

Support is included: there's a full guide of how to use the system, or just get in touch with our team for answers when you need it.
Trusted by stations across the UK
We've been proudly working with community radio stations for over 10 years, and have a proven record for providing a quality service.
"We looked at a number of platforms when we wanted to upgrade our online presence - but we couldn't find any that gave us the professional - yet useable - functionality Aiir did.

"When you have a station with a mix of people with different levels of technical know-how, to have a simple interface that can have different access levels was imperative - something Aiir provides with an amazing support structure and room for suggestions from users which is brilliant.

"With our previous provider, you'd take an hour out of your day to write and put a page live online. With Aiir I can do it on the train home, on my phone.

"I'm positive that our website has contributed to our online stats growing and the comments we've had from the public, businesses and advertisers has indicated that we're considered on a level with any other station from any of the big groups."

- Dan Richards, Black Country Radio
We have different plans with features and prices ready for stations of all sizes.
All plans include hosting, access to our support team and ways to make your site your own.
Starter
Ideal for LPFM, online-only and start-up stations.
Plus
Ideal for community, public radio, and small scale DAB stations.
Pro
Ideal for commercial stations, larger and growing groups.