Your studio on one simple screen
PlayoutONE's easy-to-use interface puts everything you need at your fingertips.
Quickly edit audio and manage metadata with the built-in Media Editor.
Make cuts, add fades, set cues, durations and date limits in one place.
Voice tracking is effortless in the Segue Editor. Just three taps to preview, record, and confirm.
Get each transition sounding perfect with segue editing, tempo and volume envelope control.
Your beds, SFX and commands are available at the touch of a button with Quick Keys.
Set up unlimited pages, with up to 100 items per page, to get it arranged exactly as you like.
Need to find the perfect piece of audio?
Search your database in the Media Finder, then just drag-and-drop it into the log. It's ready instantly.
---
Flexible to your needs
PlayoutONE is compatible with all major scheduling software, including Aiir Scheduler, MusicMaster, Music1, PowerGold, G-Selector, Natural Music and more.
Music and traffic can be merged independently so you can get the latest commercials in the log without undoing changes you've made elsewhere.
Need to break out of your log for special programming? The xLog is perfect for sports and event broadcasting.
Set up your commentary feeds with commands, rotators, traffic and more in their own log - and return to normal when you're done. It's easy to respond to changing events - a rain delay shouldn't ruin your day!
---
And keep everything in your network under control with custom commands. There's even a Command Manager tool to help set them up without having to remember any tricky syntax.
Broadcast from anywhere with WebVT and LiveMIC
Take the studio on the road with our browser-based remote broadcasting system WebVT®. Just plug in a microphone and you're good to go.
Record voice tracks straight into the system with a full segue editor and volume envelope control. You can even play local or station audio along with your voice.
Broadcasting live on location is just one click away with LiveMIC. You'll hear a low-latency feed from the studio, with mic controls and audio ducking options.
You've got full control over the live log.
Each user gets their own login and it lets you manage media across your station.
So if your traffic manager needs to get the updated commercial copy in, or your head of music has got the surprise new release ready to play, they can log in from anywhere and keep all the audio up to date.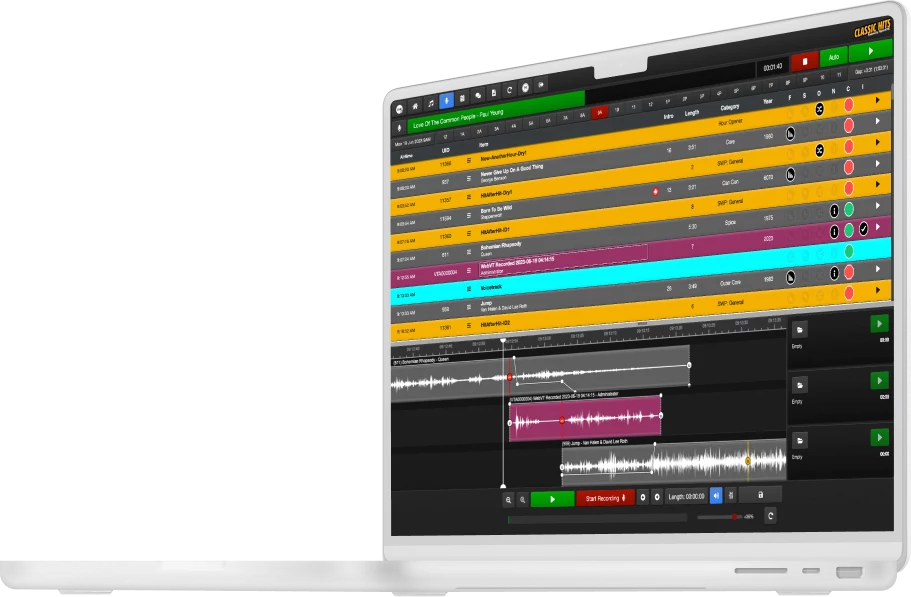 A powerful, connected suite of tools
PlayoutONE includes a range of apps to help you get things set up exactly right for you, saving you time and taking the stress out of running your station.
Automatically download external audio from files or streams.
It's the easy way to keep externally produced news, weather and traffic or syndicated shows up to date.
Monitor folders to automatically import new audio into your library, with custom filters and rules.
Back-up your audio locally or to the cloud, with connections to Dropbox, OneDrive and Google Drive.
Connect to third-party hardware for commands over Serial, Axia, Wheatstone, TCP, UDP and more.
It's ideal for digital desks or triggering local content during satellite programming.
Keep a backup PC synced at your station transmitter with logs and audio duplicated in case of facility disaster.
Monitoring tools to check your applications and stations to alert you to issues before they become problems.
Send metadata to unlimited sources, so "now playing" information can show up where you need it.
Encode your audio ready for live streaming, with logging and silence detection.
Suitable for scale
PlayoutONE works great whatever your size. Whether you're a solo station, running regional variations, spin-offs or entire networks, it's software that's built to grow with your station.
Stations within the same facility can have a shared media library, so you don't need to waste time or space loading commercials or songs multiple times.
You can access logs for all your stations inside one application, and for stations sharing the same log, you can record bespoke variations in WebVT using custom voicetracks.

The PlayoutONE Audio Engine allows you to run multiple stations on the same hardware, reducing the overheads of running a network.
You can split out commercial and production logs for different transmitters, allowing them to share content but retain their own branding.
Or run brand extensions or spin-off stations from the same box. Audio Engine means that setting up multiple stations takes minutes, not hours - and you can be more agile than ever.
Everything is included with one monthly fee. You'll get all the latest updates for no extra charge.
This includes help from our dedicated support team, based across North America and Europe. And there's 24-hour help available for off-air emergencies.
You can run it on your hardware, or in the cloud with our managed hosting solution.
Interested in finding out how PlayoutONE could benefit your station? We'd love to talk.