Powerful scheduling, simplified
Frustrated by outdated music scheduling software? Us too.
So we developed a multi-tooled product that can save you time and money.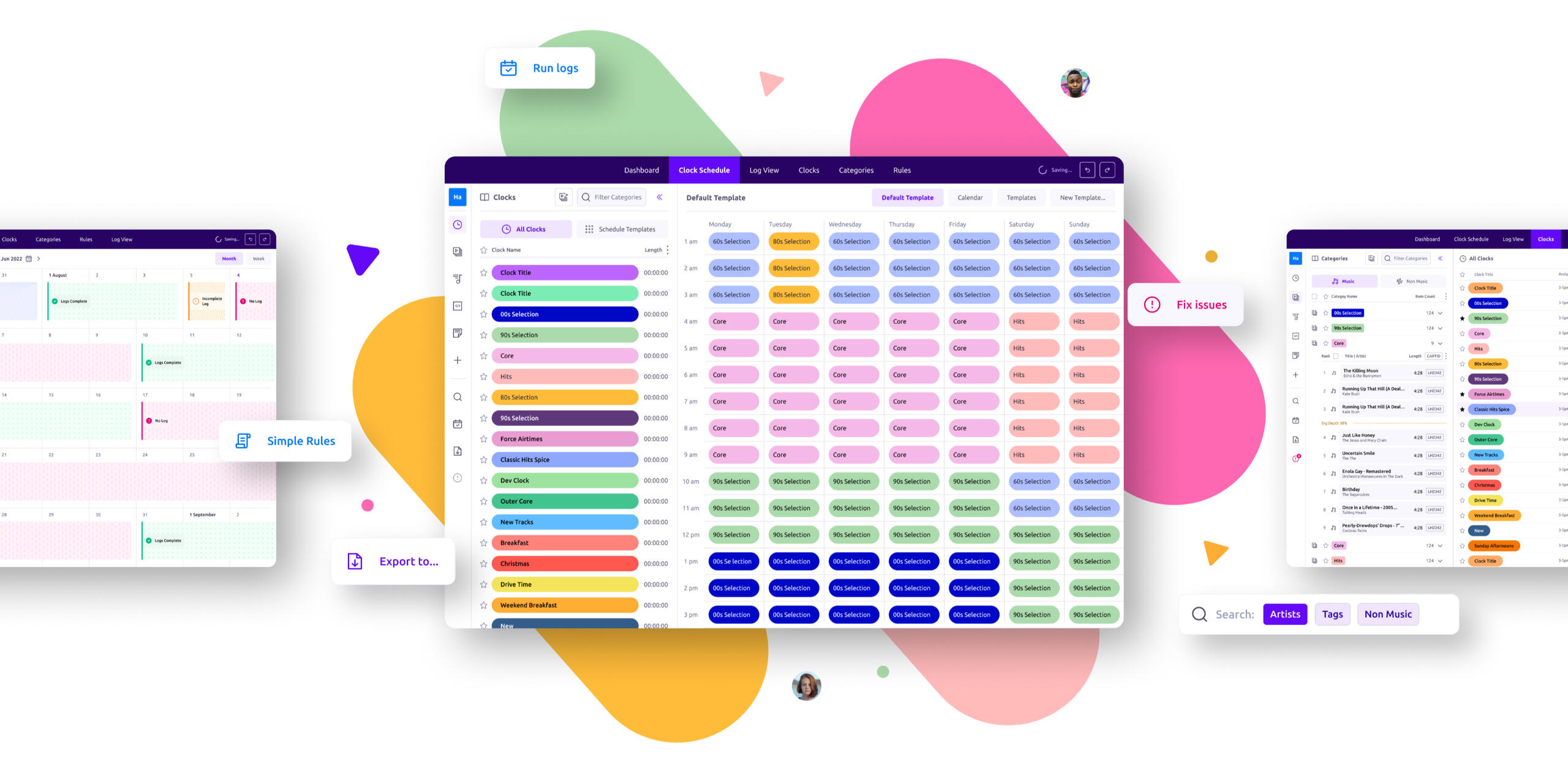 Created by radio experts, for everyone
We have over 20 years of experience building innovative, powerful software for radio - from the web-based Aiir platform to PlayoutONE automation system.
We're bringing all of that knowledge together to build the next generation of tools for broadcast radio.
So whether you're new to radio or a power user, you can feel confident that the cloud-based Aiir Scheduler will deliver on all your needs.
Free your time up
We know how important your time is, so Aiir Scheduler is built with speed and accessibility in mind.
Schedule anywhere
Our platform is cloud-based, enabling you to schedule from anywhere, at any time.
Full control
Using our powerful tools you can tweak, edit and export with confidence, wherever, whenever!
Features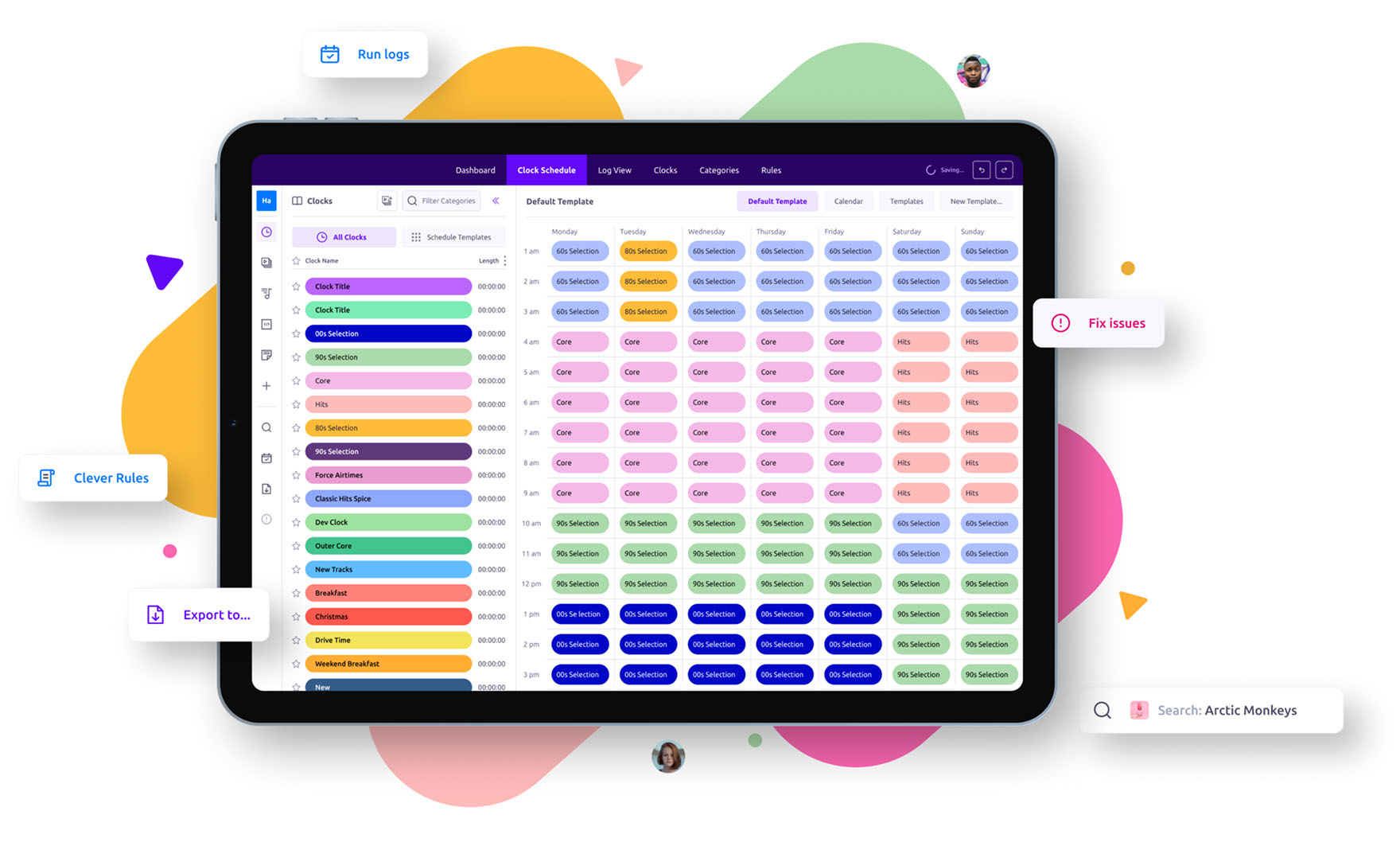 Schedule faster
Import your current data, or start fresh. With our simple drag-and-drop clocks, you can build your format and station, fast!
Schedule one day or an entire month in moments.
Clever rules, made simple
Everyone's rules are different, so we've built a fully customisable rule system to make each station sound exactly how you want it.
Separate artists
Separate featured artists
Separate related artists
Minimum separation
Title separation threshold
Hour rotation
Day part rotation
Tempo
Tags
Yesterday, same hour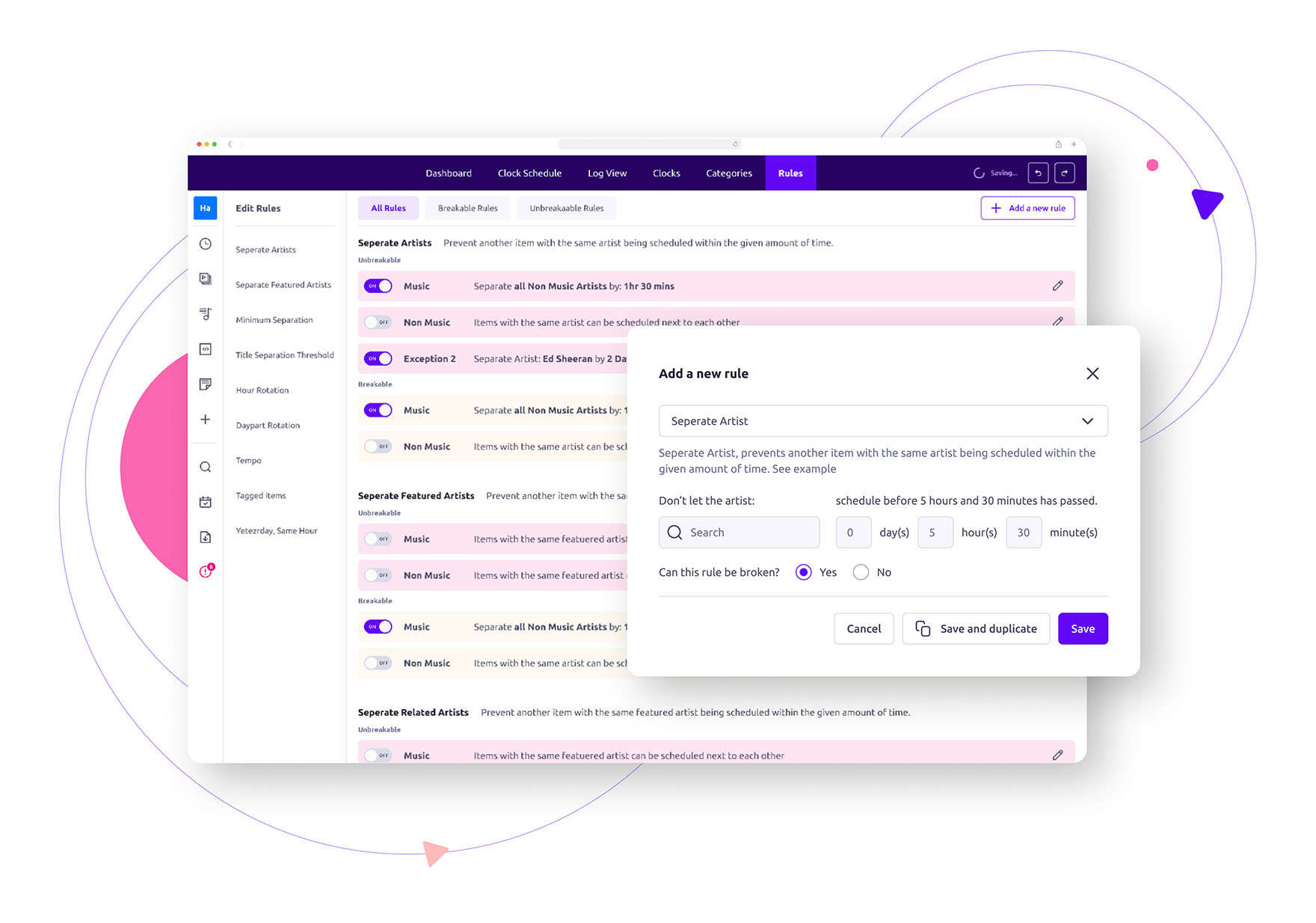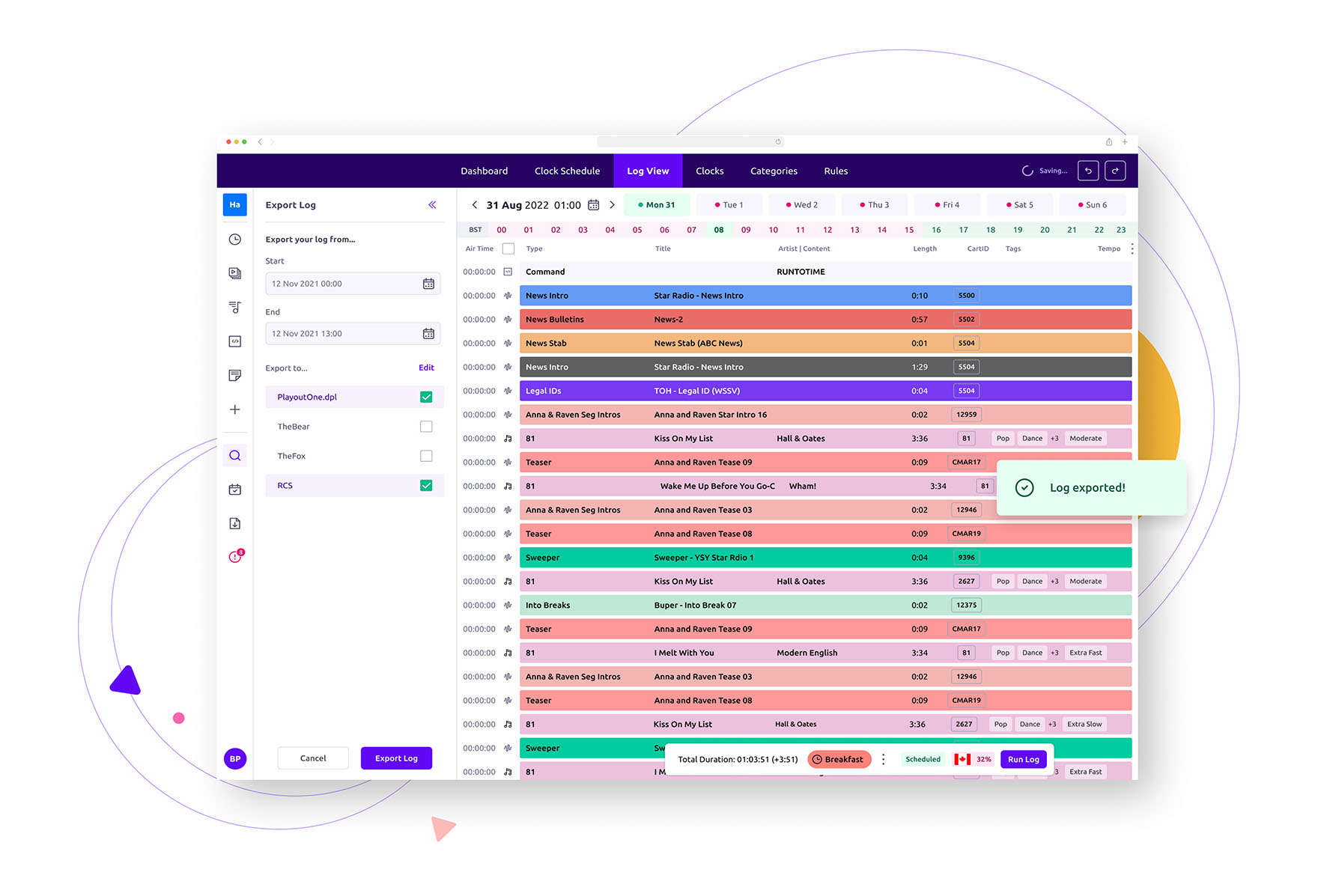 Log exports
Export to your selected platforms.
PlayoutONE
Zetta
WideOrbit
Myriad
Enco
Station Playlist
Generic M3U
Designed with users in mind
We've created a clever and simple user experience that is accessible and ever-developing.
So if you have any feedback, don't hesitate to get in touch.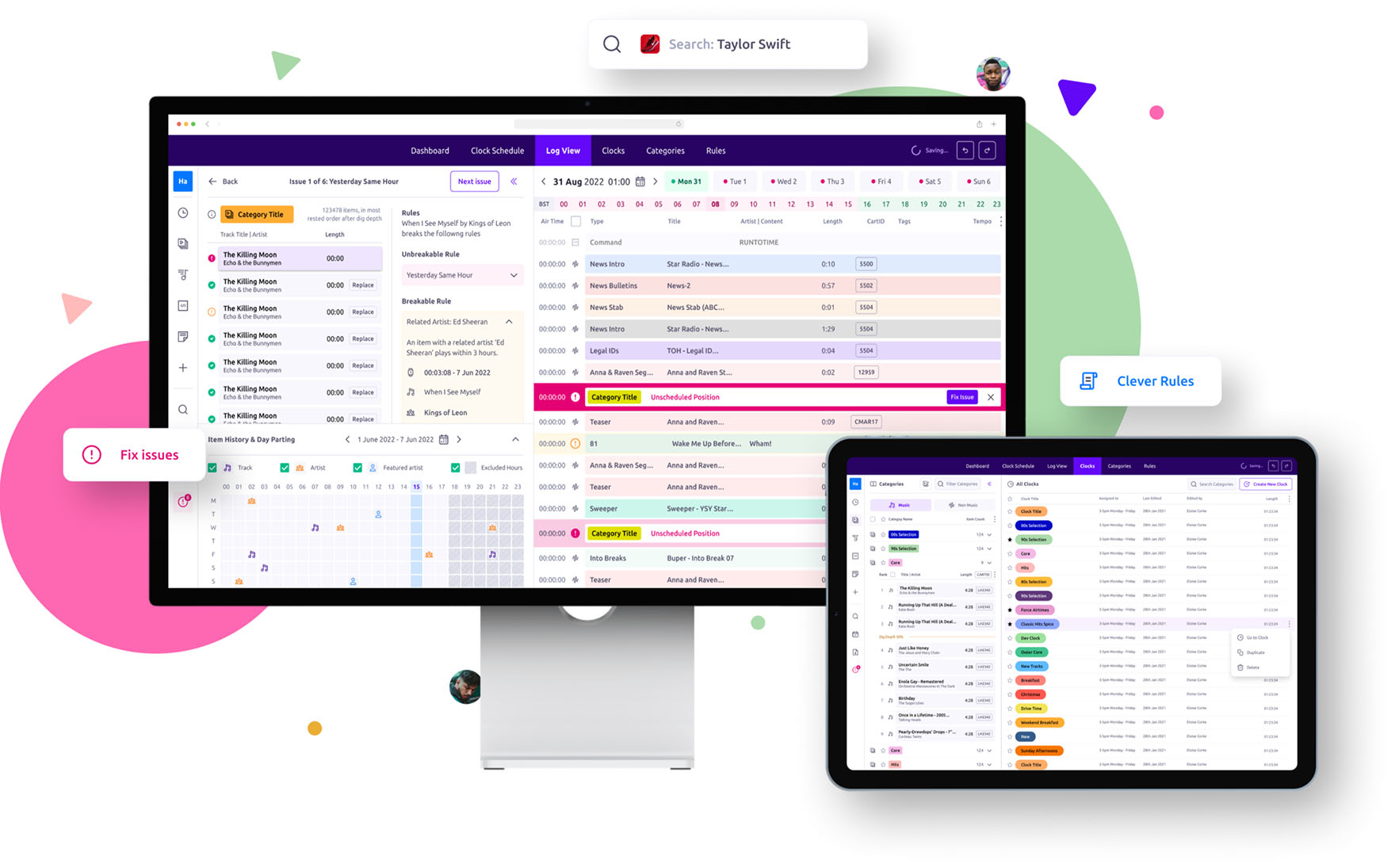 What our users say
Register your interest
We're currently putting the finishing touches on the Aiir Scheduler. If you're interested in trying it, let us know - and when everything is ready, we'll invite you for a 30-day free trial.
FAQs
What happens after my free trial expires?
You'll get the chance to add a subscription on a monthly or yearly basis. We'll also keep your account online for 1 month.
What platforms does it export to?
We export to most popular Radio Automation systems like PlayoutONE, RCS Zetta, WideOrbit and more. Don't see your system? Talk to us!
How easy is it to get set up?
It's really easy to get going - we've designed this to work great for people new to radio, as well as those who know exactly what they want to tweak in their logs.
Do you support multi-stations?
Yes! You can add multiple stations to the same account.
Is it an individual license, or can teams join?
Scheduling for your radio station is sometimes a team effort. We support multi-users within the same organisation.
Do I have to download the product? What operating system requirements are there?
Our service is cloud-based so you do not need to download and install any software. You'll just need a modern web browser.