Connected to what matters
Choose what you want to see - there's a wide range of sources available and they're all updated in real time.
SMS
Receive text messages from keywords on shared shortcodes, or from your existing studio number.
See the conversation history for a number, add labels to people and reply to messages.*
Twitter
See the latest tweets sent to your station, and interact by liking and reply to them as well.
Create custom searches to see what's being discussed across the web.
Facebook
Follow the discussions happening with your Facebook posts and see every comment.
Join the conversation with likes and replies.
Instagram
See the comments from your latest Instagram posts.
Traffic
See the latest travel updates as they happen so you can mention them on air within seconds.**
Email
Redirect emails you receive in to Studio Inbox. See their messaging history and send replies.
Website forms
Make it easy to get in touch with form submissions from your website.
* Supported SMS features may vary per region. ** Requires valid Inrix subscription.
Be in control
Studio Inbox can help teams collaborate. Customise your workspaces and share them with colleagues. They'll be kept in sync as everything updates in real time.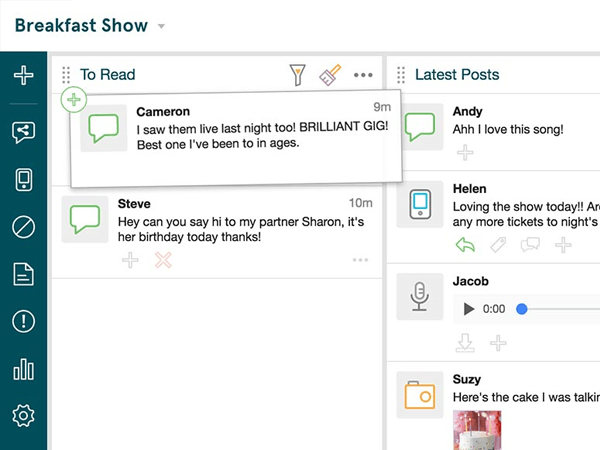 Sort your favourite messages by dragging them in to a curated column. They're shared across screens and makes it easy to read them out on air.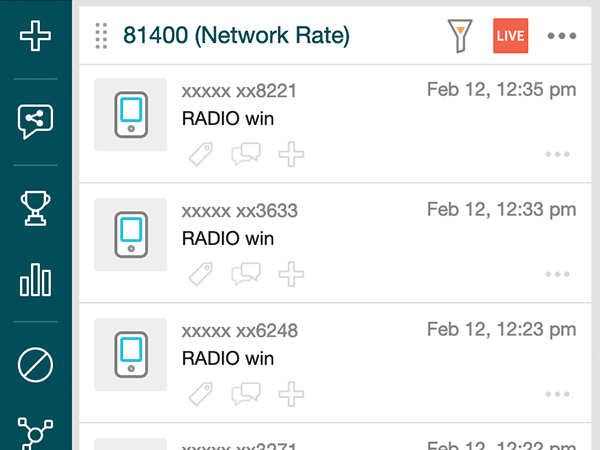 Run contests over SMS, with options to schedule, match keywords and pick winners.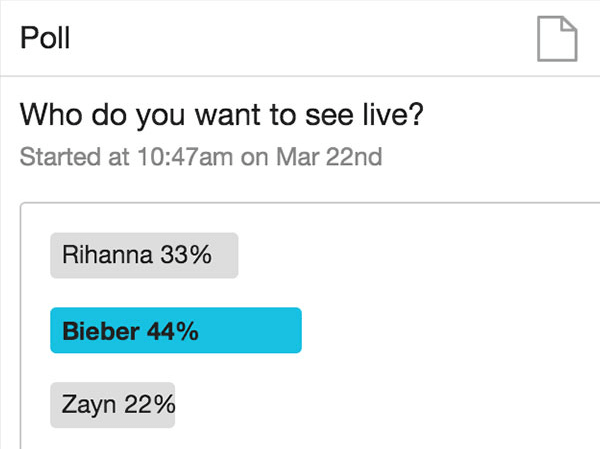 Track opinions with real-time polls. Pick the keywords and results can be monitored across multiple sources.
Change the look to be comfortable for you, with full screen and dark modes.
Export and print messages for future use when you need them.
Generate reports for messages by day, week and month.
Powerful publishing tools
Our social publisher makes it easy to post to multiple networks at once. Add as many Twitter and Facebook accounts as you need.
Attach links and images to your posts, and we'll format them best for each network.
Schedule posts for the future or add them to a queue for automatic posting.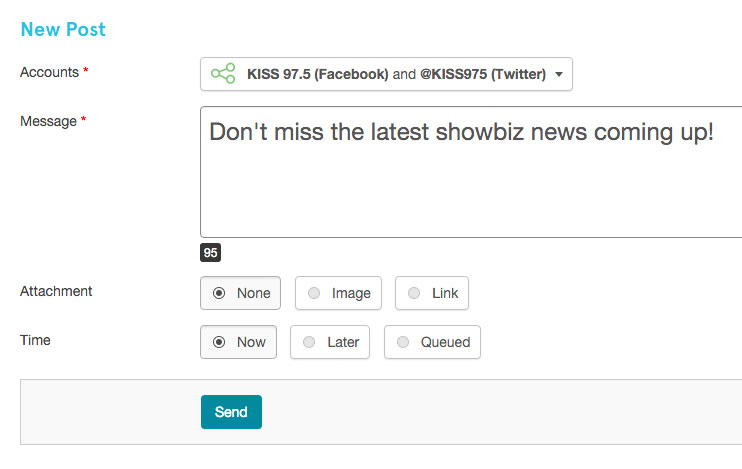 Pricing & Sign Up
Studio Inbox starts at $45 / £40 per month and includes:
Twitter, Facebook and emails on one simple screen with polls, filtering and curation.
Post to multiple networks easily with Social Publisher.
Add SMS support:
Enable text messaging on your existing studio number.
Custom keywords available on shared SMS shortcodes.
Fill in the form and we'll be in touch to discuss your needs.